Music Outreach Program
Jaime Raabe and Martin Long
In Don McLean's hit single "American Pie" one of the lyrics says "Something touched me deep inside, the day the music died." McLean's message within the song can be seen all across the nation today. Music programs are dying out at an unprecedented rate. Leaving a multitude of students without the opportunity to experience music in a school setting. To try and combat this pattern, we created our twenty percent time project to educate the students of our school in the hopes of intriguing students to make music.
During both nights of the grand opening of the Lyons Storefront Theater, we sold beef burgers, hot dogs, and water to fundraise for the music outreach program. The profits we made from the fundraiser were then used to purchase materials for the Empower Your Genius activity. These materials included paper plates, plastic spoons, easter eggs, straws, and black-eyed peas(not the band). All the remaining funds were then donated to A Touch of Brass to cover the costs of travel and time spent.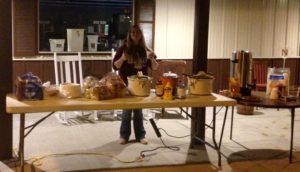 A Touch of Brass has been an active brass quintet in Northeast Nebraska for 30 years, performing a range of repertoire from classical to jazz to modern transcriptions in a variety of settings. Keith Krueger, the group's founder, is a WSC graduate and lives in Wakefield where he operates his family farm. Krueger performed with the Air Force bands for 10 years, and plays the trumpet in "A Touch of Brass." Other members of the quintet include David Bohnert, trumpet, Director of Bands at WSC; Melissa Derechailo, horn, Professor of Music at Wayne State College (WSC); Randy Neuharth, trombone, Director of Instrumental Music at Northeast Community College (retired); and Josh Calkin, tuba, Assistant Director of Bands at WSC.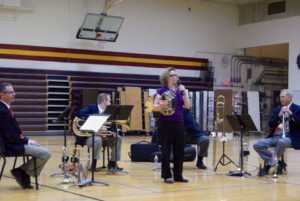 Throughout the entirety of this project, we coordinated with David Bohnert, Melissa Derechailo, Jamie Horter, and Derek Lahm in order to produce a successful event. One of the main contributors to the formation of this project was Melissa Derechailo. Without her knowledge and connections in the music industry, this project would have failed. David Bohnert served as A Touch of Brass's representative and was constantly in touch with both parties to work out the minor details. Jamie Horter and Derek Lahm were also responsible for the fruition of this experiment. They posed the question of what we could do to benefit the community. Horter and Lahm were also there to help us throughout the planning process of the event.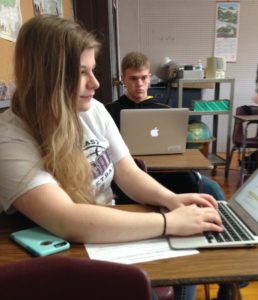 There were many calamities that we had to face while planning the performance and Empower program. We were first confronted with the problem of a lack of funds. This problem was easily solved as we found a fundraiser that would raise sufficient capital to finance our project. In addition, the scheduling of the event proved to be an arduous task. With the concert being in spring, a very busy time for not only our school but also the members of A Touch of Brass, scheduling a date for this project took multiple weeks. We quickly realized that in order to organize a successful event, planning needs to be done as early as possible. Finally, we had to endure the painstaking process of informing people about our project. We learned that sending an email to people or informing them about the event a couple of times is not always enough. You have to diligently remind them multiple times at least two weeks before the deadline for them to accomplish that delegated task.
Our project turned out to be extremely successful. The goal of the project was definitely achieved. The students and faculty members of Lyons-Decatur were all enlightened about the opportunities that coincide with being in music. I believe that this project will incite people in Lyons and Decatur to not only participate in music but also pursue music related careers. This will produce more advocates for music which will then impact our community furthermore. Ludwig Van Beethoven once said that "Music is a higher revelation than all wisdom and philosophy." We believe that the music outreach program exemplified a message analogous to Beethoven's, that music is so much more than instruments and notes on a piece of paper.