Remodeling Track Bathrooms
By: Libby Henneman, Tessie Collins, and Marcus Hegy
Our project consisted of repairing Lyons-Decatur Northeast's track bathrooms. We decided to do this community project because we wanted to show that our senior class cares about our society. We desired to make a difference in this town. Therefore, by completing this project we hoped that others will follow in our footsteps to possess the willingness to want to benefit the Lyons community. It might not be much of a difference, but every little bit counts. Not very many schools actually leave a lasting impression on their community's outlook. This project was also a great opportunity for us to show our respect, for the last time, to Lyons-Decatur Northeast.

There were countless ways that we could of went about our fundraising for this project. One of our methods was sending fundraising letters to local businesses across our community. We got a few responses back, however our biggest fundraiser was when we hosted a raffle night at one of our home basketball games. The raffle night consisted of donations from businesses and baked goods. The fundraiser was a success because we raised about $250 that night. Businesses were even willing to donate toward our project which shows how important it was to get this project accomplished.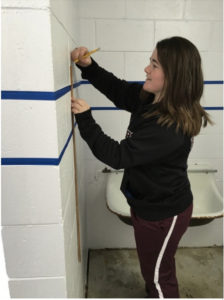 Including the businesses, there were many people involved with the repairing of the track bathrooms. If it was not for the generous businesses, such as Save More Market, Steiny's, Linda's Shear Impression, and Rustic Treasures, we would not have been able to complete our fundraising night. We also received a generous donation from Brehmer's Manufacturing that we used towards the cost of paint, curtains and other needed supplies for our project. Furthermore, our parents contributed to completing our project. Melody Henneman, Barb Hegy, and Janelle Collins donated their spare time in either helping out with our raffle night or just giving us advice on how to finish the construction process of our project.

There were many challenges that we had to overcome while completing this task. We had to make sure we had enough money raised to be able to pay for the supplies that were needed, such as paint, curtains, and tape. There were also challenges of finding the time to organize the fundraisers, buy the supplies, and working on the project together. The senior class are extremely involved individuals which lead to having to conserve as much free time as we could for this project. As a group we had to get multiple types of people's permissions such as Brian Frahm, Beth Doht, and Fred Hansen.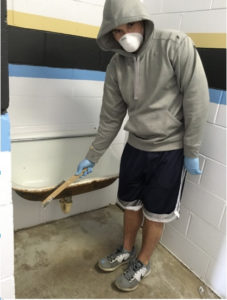 Our project's effect on our community is that this task is something that our society can be proud of. Before the bathrooms were fixed up, community members were disgusted with how poor the building's conditions were. We used these bathrooms daily when it came to football or track season. However, we restored the bathrooms to their pleasurable conditions. Our project is suppose to show our respect for our school and represent pride for our community. By taking this responsibility it resulted in outstanding teamwork and overcoming many challenges together. We took for granted on how long this project took to be accomplished. We also did not realize how much of our time had to be focused on it. Nevertheless, our senior class can certainly say that it was well worth it.